We Buy Cars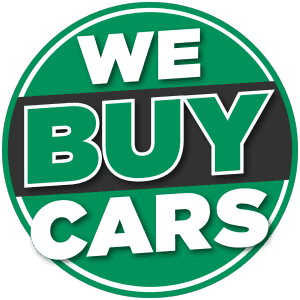 Yes, you heard right–at Super Car Guys, we buy cars. No hassles. No gimmicks. No drama. Bring your vehicle in to any Super Car Guys location and we'll make you an offer, regardless if you are interested in one of our vehicles or not.
We mean it–all types of cars, trucks, vans, and SUVs are welcome and wanted. You might be surprised by how much you could get for that car you just don't drive much anymore.
Give us a call at 888-890-4191 to speak with a Non-Commissioned Tour Guide, get a head start by filling out the form below, or scroll down further for some Frequently Asked Questions.
By now, the word is out that Buying a Car Doesn't Have to Suck. Well, selling your car doesn't, either!
FREQUENTLY ASKED QUESTIONS:
1. Do you take trade-ins?
Yes. The offer we will give you for your vehicle is as good as cash—whether you're interested in one of our vehicles or not.;
2. Will you buy my car?
Once your car has been appraised, we'll give you a written offer that's good for seven days. And you are under no obligation to buy one of our vehicles if you sell us yours.
3. Why can't I get a solid cash offer online?
We're glad you're excited to get started, but please bring your car to a Super Car Guys store to receive a detailed appraisal. To determine your offer, one of our Non-Commissioned Vehicle Experts will need to examine and drive your vehicle. Once we're done, we'll make you a written offer good for 7 days.
4. Super Car Guys buys a lot of cars. What happens to all of them?
Even though we'll buy any car, only about half of those bought by Super Car Guys will ever be sold to the public. Each car must pass our rigorous inspection before we'll consider it for our lot, and cars that don't meet our high-quality standards are sold at auctions to other dealers.
5. Can I ask questions about how you appraise my vehicle?
Of course. Feel free to ask your appraiser anything about how we arrived at the value for your vehicle.
7. Why is your written offer different from retail prices?
Our appraisal offers vary from retail prices for several reasons. Due to the costs associated with reconditioning and applying guarantees and warranties on the cars we purchase for retail sale, we must purchase a car at a lesser amount than what we will sell it for. All cars that we purchase for retail sale, regardless of the condition, must undergo a thorough 125-point inspection* and be reconditioned to meet our high-quality standards.
8. How can I get an offer for my car?
You can have your car professionally appraised at any location. This process usually takes 30 to 40 minutes, during which you're welcome to enjoy all of the free popcorn and fountain drinks you wish. We'll give you a written offer when we're finished.
9. What makes an offer from Super Car Guys different from other dealerships?
The Super Car Guys written offer is good for seven days, and is valid whether you buy a car from us or not. Generally, dealership appraisals depend on you trading in your car for one of theirs, and they won't buy your car outright. Enjoy a reprieve from the same old routine at Super Car Guys.
10. Is your offer negotiable?
No. We make a written, stress-free offer on every vehicle we appraise. We think you'll be pleasantly surprised by how much your vehicle is worth to us.
11. I've modified my car. Will that impact your offer?
While a feature sometimes could increase our offer, at other times it could lower the offer. This all depends on the feature/modification itself. It's fairly common for an aftermarket modification to void the factory warranty, which can lower the overall value of the vehicle.
12. Will regular maintenance and repairs affect the offer?
Your vehicle's overall physical and mechanical condition will have an impact on your appraisal offer, which is one of the main reasons why we must appraise your vehicle in person, not online.
13. Do I need an appointment for an appraisal?
No appraisal appointment is necessary, but it can save you time during our peak business hours. Just visit your nearest Super Car Guys location or call 888-890-4191 to set up an appointment.
17. Do I have to sell my car at the same Super Car Guys location that appraised it?
You may sell your car at any Super Car Guys location. If you're within seven days of having the appraisal completed, a Non-Commissioned Tour Guide at the location of your choice will be glad to assist you. However, if your appraisal was completed more than seven days ago, we'll need to re-appraise your car.