2015 Used Car Dealer of the Year: Super Car Guys!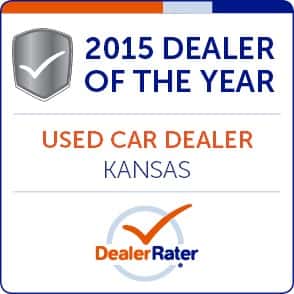 DealerRater.com, the nation's oldest online dealership review site, has named Super Car Guys the 2015 Kansas Used Dealer of the Year. According to DealerRater, "The awards are given for distinction in outstanding customer service based upon customers' reviews of their dealership experiences shared on DealerRater's web site."
Let's celebrate this huge dose of Super by revisiting some of the most heartwarming reviews shared with us last year…
User pband1j loved the team atmosphere at Super Car Guys: "This sales team was unlike any other I have worked with in the past. There was no pressure. There was a high level of communication. There was follow through, and most of all honesty. All persons involved worked to get the best deal possible for my family and I. The team effort was much appreciated."
Check out this testimonial from jparker1974, which describes a change in mindset: "Many people dread buying a used vehicle, and we were no exception, but the whole process at Super Car Guys was very smooth! We experienced no pressure at all from the staff, which was a welcome surprise as compared to other dealerships. I simply came in to look at a vehicle that I found on their website, and ended up driving it home a few hours later! When I need another vehicle, I know where I'm going to shop. I also know where to send all my friends and family for their car buying as well."
User erichvs loved the no-pressure sales approach, even though the shopping process took longer than usual: "We took about a month to make our decision and everybody there was very patient with us… No pressure, just patience and helpfulness on their part! We eventually found what we wanted to buy and they made it easy and stress free! Thanks so much guys!"
The consistently friendly approach of our team was noted by user penana76: "Everyone was very friendly, understanding, and didn't push anything on us we didn't want. Helped explain everything in detail. Great experience for buying a car!!"
These are just a few of the hundreds of rave reviews we received last year. If you'd like to read more about the Super Car Guys experience as told by our customers, visit our DealerRater profile to see for yourself why Buying a Car Doesn't Have to Suck!