Brand New SuperCarGuys.com Website Announcement!
Over the weekend, car shoppers across the state of Kansas could be heard rejoicing at the announcement of a revolutionary new website.
The brand new SuperCarGuys.com is now live, which offers an intuitive, stress-free shopping experience that looks and feels great on any device you choose to access it from. Let's have a look at how you can get the most out of your visit to SuperCarGuys.com…
The vehicle search results page now includes an expanded set of search refinement options, as well as displaying the vehicles in a grid, which users of e-commerce sites like Amazon will be familiar with.
Hover over any vehicle, and you'll see more details about its features and condition:
When you click on a vehicle that interests you, you're treated to a variety of shopping tools to assist with your search further. Learn more about the vehicle, share to your social media profiles, view a free CarFax report, or use the "Save Vehicle" feature to refer back to later (see red arrow below):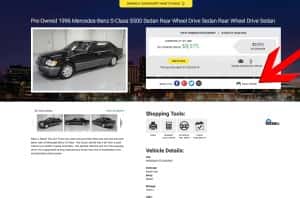 If you scroll down a little farther on the vehicle details page, you'll see that we've recommended some additional vehicles based on the one you're currently viewing:

After saving a few vehicles, click on the "Saved Vehicles" tab on the left side of your screen, and you'll see the list of vehicles in the order you saved them. Handy, right?
Of course, if at any point you feel like you'd benefit from the assistance of one of our Non-Commissioned Tour Guides, getting in touch with Super Car Guys is easy. Just click on the option that best suits your interests (Get E-Price, Schedule a Test Drive, Check Availability), let us know how to get in touch with you, and we'll be with you in no time at all. If you don't know which option to choose, don't worry–we're happy to help.
Now, let's have a look at some of the other features available to you no matter where you are on the site. You'll find them in the navigation bar at the top of your screen:

From here, you can view our inventory, get approved for financing, get a quote for your trade in (keeping in mind that we'll buy your car, even if you don't want to buy one of ours), get paid for referring someone to us, schedule service for your vehicle, or learn more about our organization, including how to join our team!
Whether you're browsing from your laptop, desktop, tablet, or phone, we sincerely hope that you enjoy your time on the all new SuperCarGuys.com, which is just one more reason why…
Buying a Car Doesn't Have to SUCK!