Non-Commissioned Tour Guides? Yes. Really.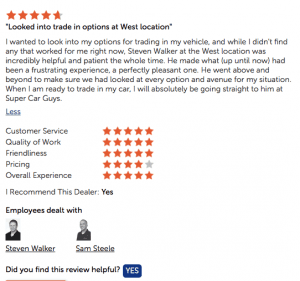 "We're here to serve." You hear a lot of businesses say it.
"Our customers are #1." Ditto.
"Our salespeople are non-commissioned." We were the first to say it, but now you hear it from dealerships all over the place.
So, how does one assess the truth of statements like these?
HINT: See the above review.
At Super Car Guys, our Non-Commissioned Tour Guides earn their living by finding the right vehicle for you. Not that there's no hidden end to that sentence. It's not "find the right vehicle for you…but really for us," or "find the right vehicle for you even if you don't really want it," it's about Finding. The. Right. Vehicle. For. You. With so many vehicles in inventory, we accomplish this on the same day you come in 99% of the time. But in the event that we just don't have what meets your needs and wants, we'll work with you for as long as it takes to make that happen, while providing 5-star service all the way.
So, whether it's the same day, two days, or three months, we haven't done our job unless we've found the perfect vehicle for your wants, needs, and budget. Period.