SCG Presents at Wichita Business Journal Panel Discussion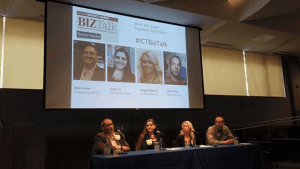 Aaron presented on social media as part of a Wichita Business Journal panel discussion this morning with three other local marketing personalities: Morgan Plummer from Lee Media Group, Emily Cox from The Arnold Group – Wichita, and Sean Amore of Value Place.
We appreciate WBJ's ongoing efforts to break the latest news about Wichita's emerging technology scene, and we think the entire staff does a fantastic job.
Follow the ongoing conversation on Twitter with the hashtag ?#?ICTBizTalk?!