Super Car Guys Opens a 3rd Location at Pawnee and Broadway!
Wednesday, 7/16/14 
*FOR IMMEDIATE RELEASE*
Super Car Guys Opens Third Wichita Location at Pawnee & Broadway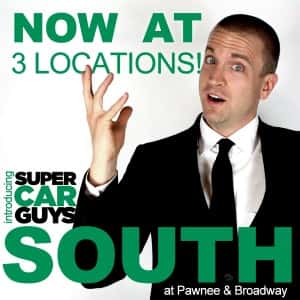 The Ride Auto Group is thrilled to announce the opening of its third Super Car Guys location at 2337 S. Broadway, in the former Joe Self Used Cars location. The Super Car Guys management team is in place and will immediately be assisting customers with their car buying needs.
"We're excited about this new chapter in the ongoing success story of Super Car Guys," Scott Pitman, Ride Auto Group Operating Partner and Chief Evangelist, said. "This third location means more convenience, inventory, and options for our customers. We think Pawnee and Broadway is one of the best corners in town, so we're embracing the huge business potential of this area and are proud to be adding the 20-25 jobs needed to support this new location."
Super Car Guys has the highest customer ratings of any used car brand in Kansas, according to dealerrater.com. They are part of the same team that brought you Suzuki of Wichita, America's #1 Suzuki auto dealership for five straight years, and who now also operate Subaru of Wichita from the recently remodeled dealership at 11610 E. Kellogg.