Super Shocking!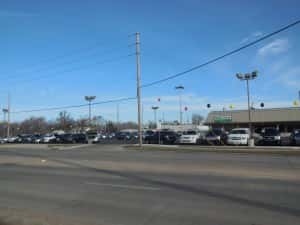 Balloons festooned the dealership in floating preparation
for the matchup anticipated for nearly a generation!
If you follow basketball, you know what I'm referring to–
The game between the Shocks and Jayhawks in the Round of 32!
Loyalties among us were divided, as expected
Though passions flared and stats were discussed, preferences were respected
On this topic, our customers had many things to say,
but the argument could only be settled on the court Sunday.
As you know, our hometown Shockers surprised a watching nation
and the Shockers faithful among us were filled with such elation
that on Monday, barely a word was spoken about the game
because radio, TV, and internet all carried the Shocker name!