The Dollar Menu Returns to Super Car Guys!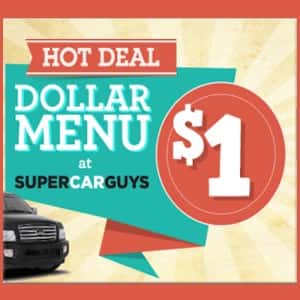 We're still fast food fanatics, so we thought…Why not bring back the Super Car Guys Dollar Menu?
Hungry to drive a car? With lender approval, it's just a DOLLAR DOWN.
How about a truck? A DOLLAR DOWN.
Minivan? A DOLLAR DOWN.
SUV? Yep, just a dollar down.
Check out our new TV spot and then feast your eyes upon our cornucopia of cars! Buying a Car Doesn't Have to SUCK.